I've sometimes been asked why EduSpots doesn't just work with schools to advance our aims relating to educational equity, instead of adopting our community-led and community-owned model.
This is a topic I've often reflected on, as engaging the wider community in education is not easy! It's much more complex work than simply driving change through a school curriculum or teacher training process; engaging communities in education takes deep listening, creativity and sustained active acts of inclusion, recognising that every context and set of community relationships is unique.
I think those people who have grown up in a rural context in Ghana or a country with a similar geographical or cultural profile will immediately understand EduSpots' work and its need, whereas I've found that there's a bit more explaining to do for those that are unfamiliar to similar contexts, where the community education space has a very important role to play in advancing educational equity.
Today I returned the incredible African Science Academy in Tema, Ghana, a school I gained huge personal inspiration from when I had the privilege of volunteering there in 2017. ASA works to empower talented young female STEM students from all across university through studying Maths, Further Maths and Physics A-levels in just one year, with extensive support with university applications and wider empowerment a key part of their approach. You can support the school here.
Given the huge leadership potential of these students, since 2018, EduSpots has supported 8 ASA students in creating Spots in their communities and undoubtedly acting as role models for a wave of upcoming young female STEM students.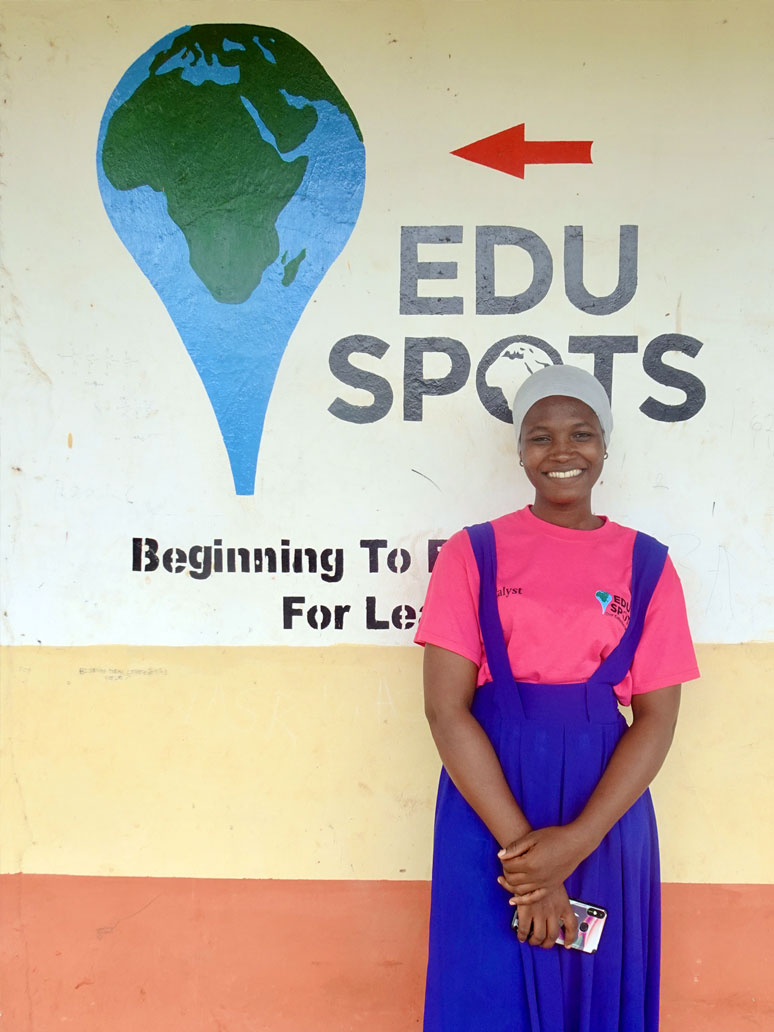 As part of a presentation with Anita Esi Eleh, ASA alumnus and Gomoa Manso Spot founder, I asked the girls to brainstorm on the question 'What are the advantages of involving communities in education and not just working with schools?' I've asked this question to many people; however, the response I got from these 40 gifted female STEM students was at another level with their enthusiasm for the topic clear from their abundance of responses. 15 minutes of discussion later, and the answers kept coming!
These were just a few of their thoughts (this could make an interesting research project, highlighting the female youth perspective on this question):
Brings the community together.
It promotes community involvement over individualism and self-promotion.
Gives educational opportunities to all people, regardless of age.
Is welcoming to those who have not experienced formal education.
Helps everyone understand the needs for an education project, and create initiatives driving from this understanding.
Allows everyone to benefit from volunteering positions, regardless of education and degree.
It can change the mindset of parents on some areas such as girls education.
Many barriers to educational success are created in the home and community environment, so the work must start there.
Can help generate funds to support programmes and activities locally, rather than depend on elsewhere or be passive.
Promotes joint ownership of resources rather than individual possessiveness, also expanding opportunities to a larger population.
Enhances teamwork and promotes wider effective community growth.
Helps people know that they can do amazing things.
And I'm sure there are many other reasons out there!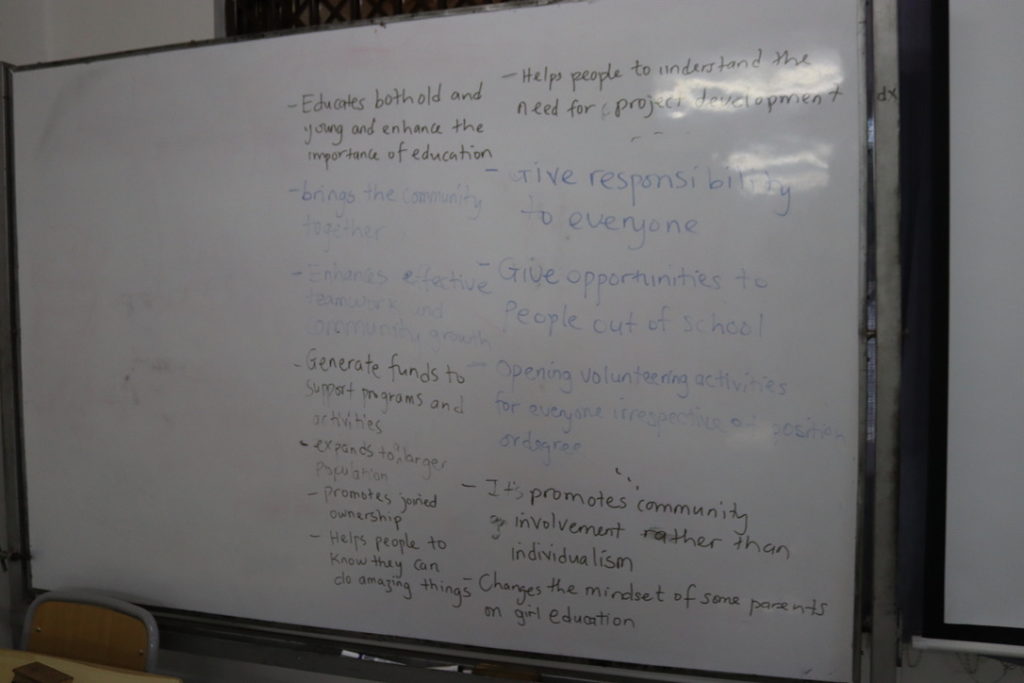 I realised that the girls in the room understood this much better than me, and that for them, the case for community involvement in education didn't need to be made, as it had likely played a role in propelling their success, or creating barriers to be overcome.
It made me think: what more can we do to elevate these voices in the formation of community programmes and curriculums across the world? Aside from writing this post, as an additional new strategic step, EduSpots will be formalising the integration of a female empowerment element into its new Ignite Programme, ensuring female and under represented voices can be fully heard a central part of this training and resulting gender equity clubs that follow.
Read more about ASA here and stay tuned for more updates on the continue progress of our work empowering females through our model of community-led education!
"Everyone counts when it comes to making our world better. It's not the work of the government only or say, well-to-do individuals only, but a collective step where we bring all hands-on board. Look around you and make straight that shaky plant by supporting it with a stick. It'll soon bloom, and you'll smile at its awesomeness." (Anita Esi Aleh)
Please add any other reasons you can think of involving communities in education in the comments below!